Freshtherapeutics.com.au Review:
Fresh Therapeutics Compounding Pharmacy
- Specialist compounding for doctors, dentists and vets and pharmacy professional services in Sydney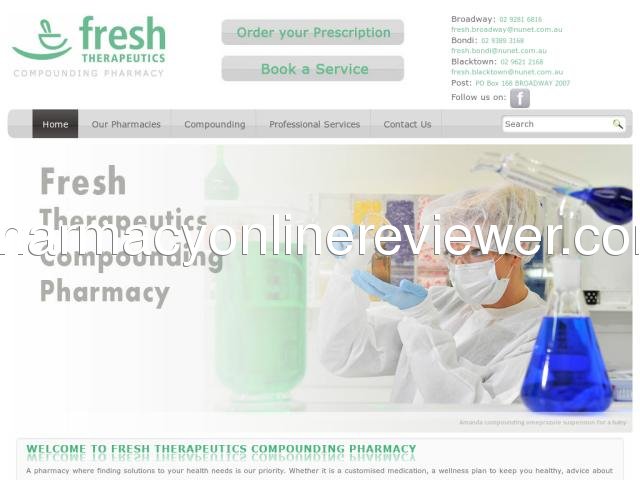 Country: Oceania, AU, Australia
vjacque2 - STEPPING STONE TO CHANGE

When I first read this book I was in college and honestly thought I knew what dating was. I actually hesitated to read this book because I just thought it would be judgmental and there would be an ounce of truth that would convict me of my dating life as a Christian. Today I can say I have no regrets but now I have standards and expectation. Love this book and this author!
Tonya - True believer!!!!

Hi I am 27 years old and a mother of two beautiful children. I'm a true believer in this product. I started out weighing 210 lbs and now I weigh 198 lbs. I started out by taking one pill 3xs a day just to see if I would have any kind of side effects, then I went to two pills 3xs a day and finally three pills 3xs a day. I can tell so much. My mood has changed, I can tell I've lost inches, my appetite is a lot smaller I don't have any desires at night or even in the afternoon to snack. Over all my husband has seen a big change in me. I have NEVER taken a diet pill before until now. I am going to continue my goals in my weight loss and get down to my final goal and that is to get to 150 lbs!!!!! I've ordered my second bottle and I'm so happy!!!!! Thanks! :)
Kim M. Keen - Finally some relief....

I don't have crohns or celiac disease, but I have suffered from IBS for years. I finally came across this book, and because of all the wonderful reviews I gave it a try. I have never felt better !!! No more bloating, no more cramps, no more finding the nearest bathroom everywhere I go. I made my own yogurt and almond muffins and they are so satisfying. Believe me, if I can do it, anyone can do it...I am not a culinary wizard by any measure. Thank you for helping me feel better than I ever have.
Bill Booz "Bill Booz" - A Wonderful Intro to the MFT World!

I love this little camera! I shoot a Canon 60D with an assortment of lenses and have also been using my iPhone 5 camera (8MP) a lot in last year, but I have been thinking of purchasing a high end compact (P&S) camera that had a hot shoe and shot RAW. However, the $500+ price tag on those I was considering was a turn off. Having heard so much about the micro 4/3 mirrorless cameras, I decided to investigate them. When I saw I could get this Olympus PEN E-PL3 (silver) for only $259 my decision was made! I got what I had been looking plus more: interchangeable lens camera with incredible customization possibilities along with larger sensor (=better resolution) than a P&S, flash hot shoe, RAW format capability, small and light camera yet easy to handle.

I was a bit concerned that I was buying a camera model that was already two years old with two newer models of this line already out, but I need not have worried. Though - with experience so far - images at ISO 1600 and above are not great (but I'm still learning how to get the best out of this camera!), I am otherwise very happy with image quality and sharpness. And, unfortunately, I am already - after owning the camera only one week! - lusting after other lenses for it! I am, however, happy with the range of views the "kit" 14-42mm lens offers me. I am also very pleased to see that I can use my old Canon lenses with my new PL3 as well. Along with the camera I purchased an inexpensive adapter that allows me to mount the 50mm, f/1.8 lens (FD) from my old (1972) Canon FTb camera, as well as any other FD lenses I can find to purchase cheaply. With that success, I decided to go ahead and order a more expensive ($115) adapter so I could also use the small collection of Canon EF lenses that I currently use with my Canon 60D. Have not received that yet, but look forward to seeing how those lenses work with the PL3.

I'm documenting my experiences at
fleet girl - WOW Hot..Steamy...Blush Worthy Reading

I have never read Maya Banks before....and I will be reading much more from her in the future. This book was WAY better than Fifty Shades of Gray. Gabe and Mia are two tortured souls who come together and find real and lasting love. Sure there is A LOT of erotic sex....but in the context of this relationship it works. There were several REALLY SHOCKING scenes that made me go WOW. I cannot wait for book Two and Three.....This ones is a keeper....must read and fantastic in every way!!!!